I think most people read and write to escape the world. I'm just trying to read and write my way in.
The History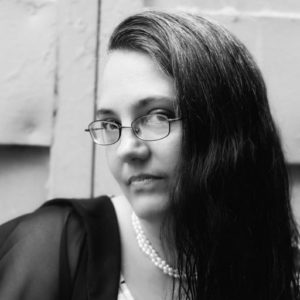 For as long as she can remember, Larina's family told her she'd be a writer. She started writing fiction in third grade with a series of short stories about Easter the Rabbit. Larina discovered poetry in sixth grade, and for many years, wrote 2-3 poems a day. Her first poem acceptance happened when she was 16 in a little independent magazine called Night Roses. She sold her first short story years later to Space & Time Magazine. She has also published creative nonfiction and nonfiction related to creative writing. Most recently, her short script "Speechless" was a quarterfinalist in Screencraft's Short Script competition.
For a few years, Larina edited the online journal The Externalist: A Journal of Perspectives, which published poetry, fiction, and nonfiction focused on social justice issues from a range of perspectives.
Her memoir in poetry, Guitar without Strings, was published in 2011. She is currently working on two collections of poetry and her first novel is in the editing phase.
In addition to writing, she dabbles in photography and music. Larina plans to learn oil painting now that she's defended her dissertation.
For more information about her publications, click on the links below at the bottom of this site.