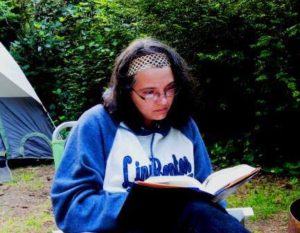 Education is not the means to an end. It is the means to a beginning.
The History
Larina completed her high school diploma at an alternative school in Idaho. She started her undergraduate program at the University of Idaho.  After some time away, she returned to college, first finishing her sophomore year at Treasure Valley Community College and then completing a B.S. in Liberal Arts with a minor in political science at Eastern Oregon University.
Several years later, she earned my M.A. in Curriculum & Instruction from Saint Xavier University. Throughout the program, she studied educational issues related to first-generation, low-income students.
Larina is currently ABD in the Interdisciplinary EdD in Education Leadership program at Creighton University. she is working on her dissertation, "Legislating Morality: Legislated Codes of Ethics and Teacher Sanctions."
Informal Education
Larina a chronic learner. She regularly engages in informal education, especially related to poverty, educational technology, and underrepresented populations in education.
Scholarly Publications
Warnock, L. (2015). New literacies in developmental education. Against the Grain, 27(1).